Smart Omix

Role: Product Designer
Project Type: SaaS Web Platform
Duration/Status: Ongoing, launched
Team: Full-stack Developers, Data and Machine Learning Scientists, Product and Project Managers, Clinicians, Sales and Marketing

Smart Omix is a no-code SaaS platform for decentralized clinical research. The platform enables researchers to conduct studies independently and collect real-world data, helping advance relevance, equity, and data integrity in clinical research. It's designed to address technological, economic, and talent barriers commonly encountered by the research community when conducting remote observational studies and eliminates the need for design and engineering expertise to build and launch their studies, democratizing clinical research in the process.
Objectives
To design a web platform for researchers to design digital clinical research studies without the need for developers.
---
01_Empathize
Understanding what's at stake and the user's needs & contexts
Why should we care?

The global clinical trials market size was estimated at $44.3 billion in 2020 and is expected to expand at a compound annual growth rate of 5.7% from 2021 to 2028. Key factors that are driving the market growth include the adoption of new technology in clinical trials, the increasing prevalence of chronic diseases, and demand from developing countries. Smart Omix focuses on the custom studies space as a way to democratize clinical research by lowering the barrier to participation. Focusing on making the product more participant-centric provides a way to give them a stake into the study. Smart Omix aims to take care of the data integration, allowing the researcher to focus on their job on designing the study and reducing the overall cost to conduct a study without the need to hire developers.

The global clinical trials market size was estimated at $44.3 billion in 2020...Key factors that are driving the market growth include the adoption of new technology in clinical trials, the increasing prevalence of chronic diseases, and demand from developing countries.
What should we offer?

The challenge is creating a digital end-to-end clinical research experience for individual clinical researchers. Based on competitors, we identified that providing
self-service automation
and
passive data integration
are going to be key differentiators for the product.

---
02_Define
Determining the problem and scoping down the challenge
Though we had a good understanding of how to differentiate ourselves among the competitors, we wanted to get a better idea of the mental model and motivations of our potential users. User research enabled us to define Dr. Angela Wright and her journey as an individual researcher who wants to run her own pilot study.
She wants to create a study end-to-end in one platform so she can spend more time doing what she's good at
—asking the right questions.
Key challenges identified include:
Prohibitive costs of conducting studies. How do we reduce the cost of conducting clinical research studies and reduce the barrier to entry?
Regulation. How can researchers ensure they are on top of regulations required to run other studies?
Flexibility of use. How can we enable flexibility of use among unique studies brought into the platform?
Data quality. How can we ensure researchers are deriving quality insights from quality data?
We affirmed that designing for the key differentiators aligned with the pain points that Angela needed to be solved.
---
03_Design
Determining the problem, scoping down the challenge and investigating opportunities

Taking inspiration from SaaS platforms and survey builders, such as Typeform, Asana, and Hubspot, we learned that in order to optimize for self-service automation the product needs effortless facilitation across every step of the study building process. The challenge would be attempting to simplify an inherently complex process that largely exists in an analog setting, and applying the mental models of how to design clinical research studies in a digital setting. The following are core challenges we faced:

Structuring the navigation for scalability and familiarity
Designing a navigation that follows the distinct phases of creating a study familiar to researchers

Conversations with clinical researchers revealed there is a standard process for designing studies. Creating a navigation structure that mimics this mental model helps familiarize the process on a digital platform, and therefore speed up designing the study. The top nav allows for a larger body and scalability through nested pages.




Striking a balance between ease and transparency with health data integration
Showing researchers the data they would retrieve from certain integrations and what those permissions would look like to the participant

Passive data integration is a critical feature differentiating Smart Omix from its competitors. We also know that acquiring quality data is crucial to researcher's success, and that the ability to add more novel ways to collect data is key to expand the way they collect data. To support these needs, we created a data integration dashboard, filled with cards of active integration options, such as daily step count and GPS. Each card enables users to seamlessly add the integration requirement to their study. Researchers also want to know how their data would look like when downloaded, so we show them examples of what that table could look like. Lastly, researchers can also view how the permissions would look like on participant's end, keeping design top of mind.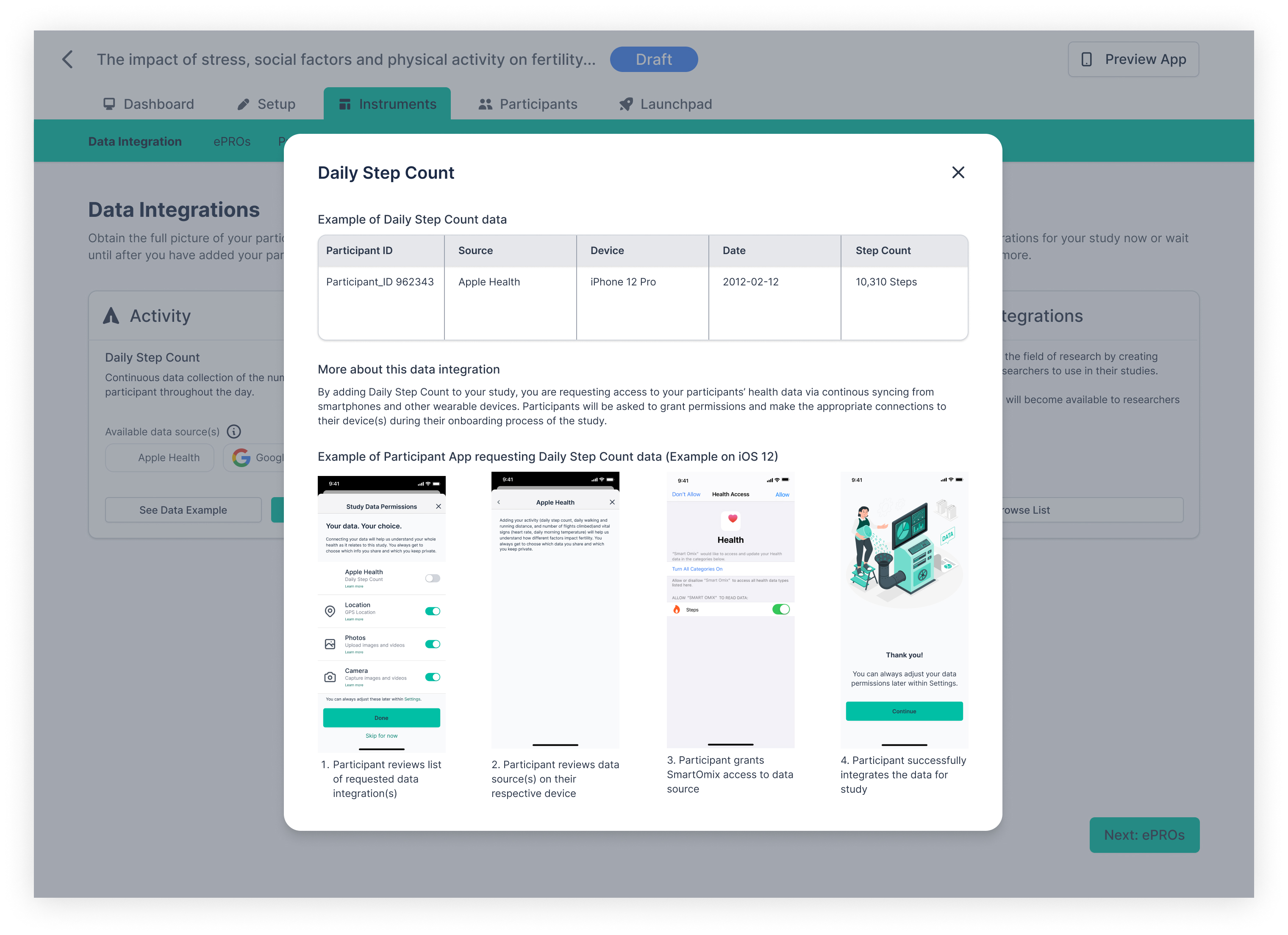 Creating a no-code sandbox enabling researchers to build their study and launch on mobile devices
Designing a WYSIWYG feature to provide live previews of how study participants would see the study

Creating questions for clinical research is one thing. Designing it for a mobile phone is another. We understand how important it is for researchers to make sure they can create their study seamlessly, and also look great too. In this feature, researchers can create their questions (i.e. ePROs) while seeing their design come to life instantaneously. Once they create a handful of questions, the ePRO dashboard serves as a central hub where users can reorganize and manage questions at the schedule level - always having a full overview of their whole study. All without having to write a line of code.





Keeping tasks short and linear (and flexible) to reduce errors and facilitate engagement

A complete ePRO requires cadence, a name, and a question. The cadence dictates the frequency in which the question is asked to the participant, the name helps the participant understand the topic of the question, and the question itself is the main driving force to collecting pertinent data for the study. As a result, this short and linear approach to completing an ePRO helps reduce errors by focusing on one step at a time and gives researchers manageable goals to complete so they feel its attainable.





Facilitating the study state and version control to comply with regulation


Every study must go through a review board before being available to the public. We had to consider a flow that guides researchers through the review process while maintaining the correct version of their study. Researchers need a way to lock their study before submitting it to the review board, as a way to ensure that no new changes could be made before the review has happened. Unlocking their study, if needed, generates new versions that would be logged and archived. Badges were most effective at communicating this dual status of version and study state.





Maintaining transparency between researchers and participants to manage overall quality of the study
Identifying disengaged users with adherence and status badges

We also understand that for researchers, quality data is crucial, which means making sure that their participants were high quality as well. This largely translates into adherence, and we found that tracking and tagging users' adherence rates would be a simple way for researchers to manage their participant list.




Assessing enrolled participants in the study with a live dashboard

Another way researchers can manage their study is assessing the health and make-up of the study's enrollees. Once live, researchers can see a live dashboard of enrolled participants' enrollment, demographics, adherence, and platform engagement. Enrollment and adherence in particular can signal whether changes in the study need to be made.



---
Project Takeways

Sourcing people for user research takes a lot of time in the clinical research space.
User research is crucial for scoping, alignment, and direction, but only if the people you find are relevant. In this space, it's important to plan ahead and have a ready source of people to stress test features with.

When strapped for resources, rely on key internal stakeholders.
When you don't have the resources or time to conduct rigorous user testing or research, rely on key stakeholders to give you the best information about what they know about the target audience.

Being rigorous about the initial product architecture is critical.
Create a robust and flexible enough site architecture to allow for inevitable scope changes and feature additions.

Having a global and local design system is helpful for novel products.
New products within a company often engender new design patterns that may not already exist in the company's global design system. This is expected as the project evolves and matures.