Fit2gether

Role: UX Designer
Project Type: Case study, group work, Mobile App
Duration: 6 weeks
Fit2gether is a mobile fitness app that motivates users towards their fitness goals through personalized workouts and social accountability. The online fitness industry is saturated, and a new product market is ripe for ideas that help millennials seek alternative ways to stay happy, healthy, and active. This case study explores this space by developing a product where users' source of motivation is intrinsic and supported.
Goals
To research the needs, goals, motivations, and frustrations of millennials around health and fitness.
To define the UX strategy of the platform
---
01_Empathize
Understanding what's at stake and the user's needs & contexts
Why should we care?
The global fitness economy is valued at over
$4.5 trillion
and experiencing rapid growth today. However, rising costs also coincide with growing interest in fitness among millennials. There has been an increasing gap in activity dependent on income (e.g.
those who make less than $50,000 have shown to be even less active than in previous years
). While the health and fitness industry as a whole is experiencing a surge, there are opportunities to expand the market to an audience not traditionally considered when it comes to health, wellness, and fitness. Fit2gether explores this challenge by supporting users' motivation for achieving their fitness goals and providing community for invested accountability.
Survey Results

Based on 74 participants, we learned the following:
41% of respondents do not use digital platforms for the personal health and wellness routine. There is an opportunity for digital experiences to complement or improve users' existing routines and behaviors.
38% of respondents do not use fitness apps or trackers. There is an opportunity to improve the value proposition of existing digital interfaces that addresses pain points and reasons users don't find them helpful.

70% of respondents claim to workout 1-4 times per week. There is an opportunity to focus on ways to maintain or reward Millennials' already-active lifestyle.
Informed by insights synthesized from 16 potential users and subject matter experts, we developed Jordan K., the social-go-getter.
"I feel at my best when I'm surrounded by friends and family, they help encourage me be my best self!"
Key User Needs

Based on 12 potential users and subject matter experts, we found the following needs for event planners most influential:


Users want a flexible event planning process that offers several options and tools that help with organization and outreach.
Users are interested in seeking venues that already have their own audience.
Users are aware of the increasing value of in-person events and experiences and looking for ways to stay relevant, socially impactful, and "instagrammable."
---
02_Define
Determining the problem and scoping down the challenge

Based on user feedback, we were able to better qualify the type of millennial to design for and understand the deeper behaviors that influence their struggle to workout.



Millennials who struggle to find motivation towards their fitness goals need a way
to discover personalized fitness content

for inspiration and share their progress to build a culture of

accountability

within a health-conscious community.
What is the framework?

The synthesis of the feedback also informed the following design principles:

Empowering
The opportunity for users to be inspired and motivated by the community and personalized content to reach their goals.
Community-Driven
The ability to connect with those who have similar goals is hopeful and encouraging. Since users cultivate this positive community, the opportunities for users to connect with each other will be reinforced throughout the experience.
Inspirational
To maintain a sense of ingenuity throughout the product to spur the user's positive spirit and access exciting content that keeps them engaged.
Discover
To create excitement and a sense of discovery by providing users with personalized and relevant content based on their fitness needs and goals.
Convenience
To support simplicity and ease of use, providing a cohesive experience, wherever the user.
Growth
To encourage personal growth and accountability through facilitating connections based on shared goals and expectations within our community.
Lessons from competitors
Now that we aligned on a problem to explore, we researched influential companies in the fitness space (e.g. FitBit, Class Pass, Peloton, Instagram, YouTube, and Meetup) to learn about what makes them successful and opportunity gaps to consider for ideation. We learned:


Users want to be able to effectively track their daily activities.
Users want access to a variety of classes.
Users want to discover content that fits their needs and interests.
Building community is a significant feature to help retain users long-term.
There is an opportunity to get into the deeper motivations for working out and keeping people accountable to their goals.
Jordan's Journey

Crafting Jordan's journey map helped us identify their pain points, emotions and behaviors along key steps in the workout process.


---
03_Ideate
Generating and testing potential solutions
Initial Ideas

Now that the framework was established, we were ready to identify potential solutions.

My initial sketches explored real-time progress tracking and sharing. During a workout, a user can track and share their progress in real-time to help motivate and inspire others in the community to reach their goals. Users would have the ability to select which metrics to share, share how they feel with others, and get real-time feedback from the community.

The sketches were further refined as a paper prototype, which was then tested by 10 users to assess viability.


Users questioned the type of user who would want to livestream their progress.

Users would only interact with others' progress only if they know them.

Users who are likely to livestream do it with people they trust and know and like the added motivational challenge.

Users like how interactive the interface feels, but don't want it to distract too much from the workout itself.
To ensure that all ideas on the team would be aligned, we developed a concept statement informed by the key insights of all of our concepts.

Using fitness challenges to motivate millennials to workout, this product provides
inspiring and empowering alternatives

to help users achieve their fitness goals. Users can create, discover, and invite others to challenges and events based on their personalized needs.

Task Analysis and Wireframes
The concept statement gave us a clear framework to develop a series of task objectives and flows to explain the steps the user must take in order to achieve the goal.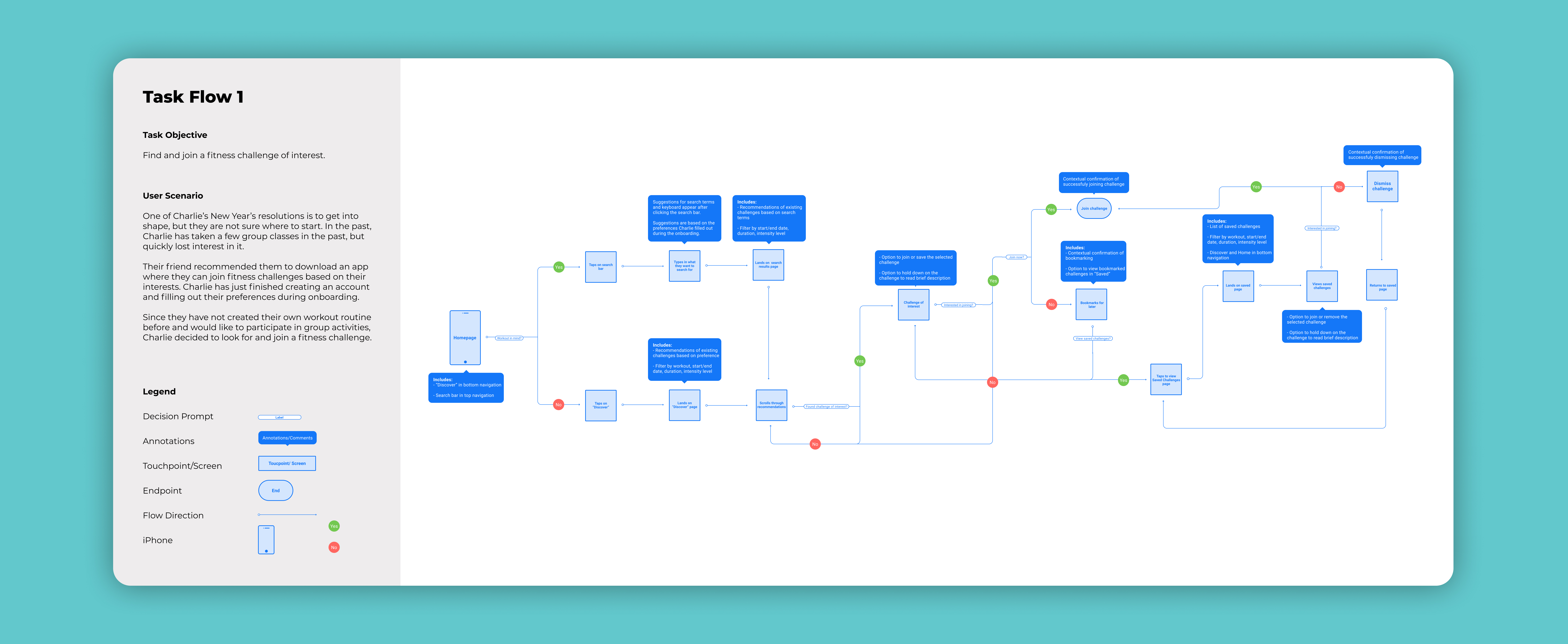 Once the initial set of wireframes were developed, we needed to find a way to converge the tasks into one cohesive product. Card sorting helped us develop structural guidelines for how our users think the product should be organized.

We conducted a remote card sorting activity with 5 users, and these were our main takeaways:


1. The dendrogram suggests that there are 3 common groupings that users have identified: groups, filter and find events, and creating fitness challenges. These can potentially be the bottom navigation items.


2. According to the similarity matrix, we recommend grouping together the cards with an 80-100% matching rate. The data suggests most users grouped the "group" related cards together, suggesting that users believe they should be their own category overall.

Mapping a Solution
The card sorting activity helped inform some ideas and guidelines on how to construct the app map of the converged design of the 3 task flows.
---
04_Deliver
Prototyping the solution and investigating opportunities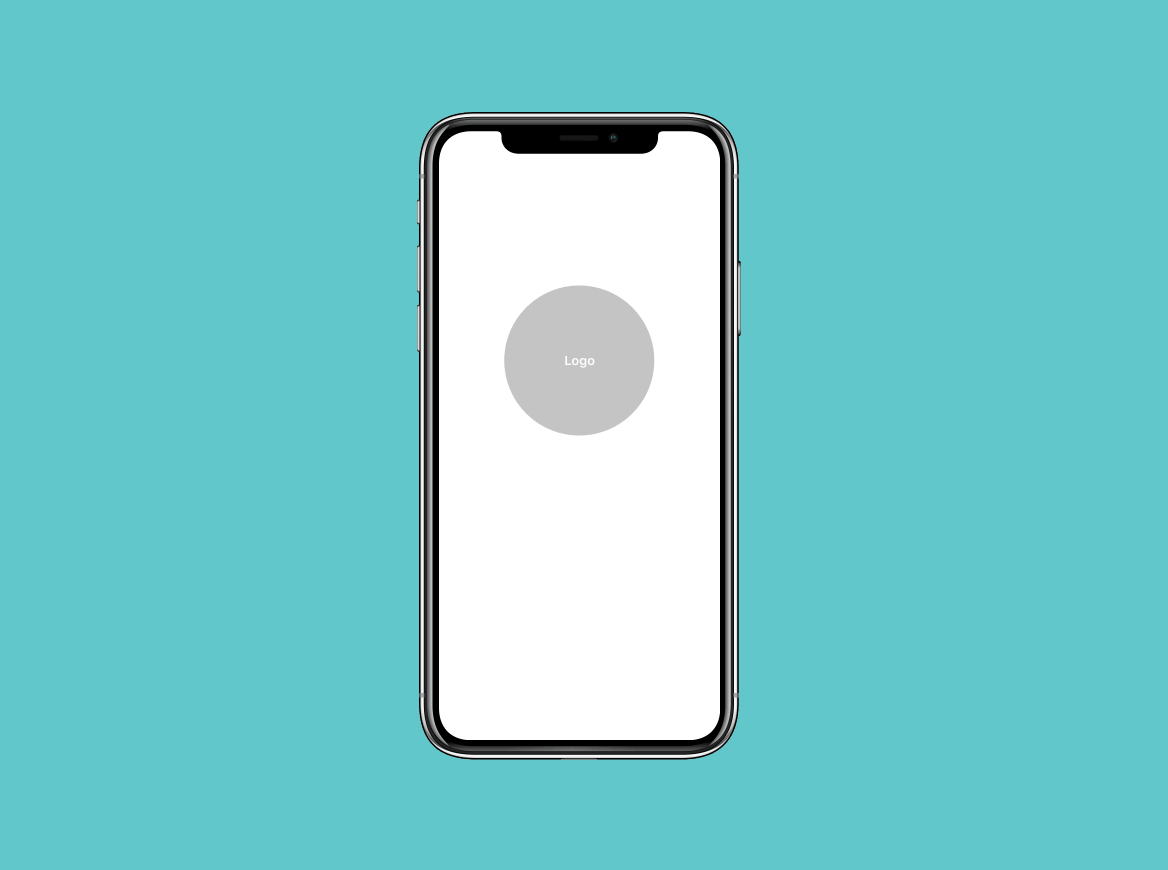 ---
05_Outcomes
Key takeaways from user testing
We tested the prototype to 6 users, and these were the main takeaways:
Improve the integration between the information users input during onboarding to provide an personalized curated list of potential challenges to participate in.
Incorporate an educational component to help users learn about new workouts and exercises beyond what they are familiar with
Incorporate a timer as a user is completing a challenge workout and a microinteraction once a workout is complete as positive reinforcement.
Users were unsure of the quality of advice that they would receive from the challenge group feeds especially given the large size of the groups. Incorporate a verified check-box next to users avatars to indicate that they are certified personal trainers and can give quality and valuable feedback to users.
For future development, we would consider the following:
1. Test participants were intimidated by the apparent size of the current fitness challenge groups, and expressed wanting to be able to create smaller, private groups for friends. Adding a "Create a Group" button to the "Challenge Details" page would make it clear that groups are user-generated, and creation is an option.

2. We will add a "checkmark" next to users' avatars to show that they are certified personal trainers that can give quality advice and feedback to users. This will help motivate users to join groups and challenges that have verified coaches providing advice on how to get the job done properly.
Use the survey as a tool for deeper exploration.
Though the survey insights we had received were helpful, the questions we had asked were limiting and predominantly demographic. This generated an early idea bottleneck as it was so early on in the design process and influenced a significant amount of the direction afterwards. The quality and intent of the questions have more influence than the amount of survey participants.
Keep the trust bucket full.

Maintaining good team dynamics means that there is a relatively high level of trust among all team members. This sense of trust could be earned and maintained through both the work completed, and reasonable transparency reported to the team when there are pain points that arise.