Bulletin

Role: UX Designer
Project Type: Case study, group work, Mobile App
Duration: 5 weeks
Bulletin is an interactive web-based platform that allows entrepreneurs to find the resources they need to share their skills offline. There are limited options in the current educational community marketplace to connect entrepreneurs with the right venues, vendors, and sponsors to offer in-person classes and workshops. A large market opportunity exists to introduce an independent platform that provides such support. This case study explores these challenges by developing a product where entrepreneurs can find resources to plan events that match their needs and values.
Goals
To

build

a platform that could include event creation, event support, event marketing, venue coordination, and attendee-focused customer service.

To

focus

on the organizer experience of the platform and offer users an interactive experience that meets their event's needs.

To define the UX strategy of the platform ---
01_Empathize
Understanding what's at stake and the user's needs & contexts
Why should we care?
The global events industry is valued at
$1.3 trillion today.
11% by 2026
in the United States. Furthermore, the industry currently provides
5.9 million jobs
in the US alone. Despite this demand, event planners face significant challenges with their budget and finding the right sponsors. A digital platform to support users through these challenges will empower them to share their in-demand skills and provide more opportunity to find resources that best match their needs and values.
What should we offer?

Understanding the competitors helped us identify a key opportunity gap: helping event planners find the right vendors for their needs.
Survey Results

Based on 32 participants to our survey, we tested the following assumptions and learned the following:

Assumption #1
Users would specifically like a digital platform to support their event planning process.
False. We found that there were some users who relied on the analog notes and specified "handwritten checklists", for example.
Assumption #2
It's essential to build a digital platform that benefits both the experienced and the novice event planner.
False. For some users, a mix of digital and analog platforms is essential. The data suggests that it doesn't have to be a mutually exclusive approach when it comes to event planning.
Some results were surprising:

The majority of hurdles were associated with venues. This is something to factor in while scoping the challenge further.
Users' use of a mix of different tools suggests that don't rely on just one tool for everything. Their current behavior suggests that they are already used to working on multiple platforms to get the job done.
Key User Needs

Based on 12 potential users and subject matter experts, we found the following needs for event planners most influential:

Users want a

flexible

event planning process that offers several options and tools that help with organization and outreach.

Users are interested in seeking venues that

match their audience and values.

Users are looking for ways to stay

relevant, socially impactful, and "instagrammable."
---
02_Define
Determining the problem and scoping down the challenge
Based on user feedback, it was evident that we would primarily serve event planners who have skills to share. The additional market research helped us determine that an opportunity lies with helping users find the right resources for their event, which led to the following problem statement:


Entrepreneurs who want to share their skills need a way to find resources so they can design an immersive in-person experience for their community.
What is the framework?

The synthesis of results from all our data points informed the following design principles:

Flexible
The ability to modify and respond to last-minute changes and adapt to their situation based on their client/attendee's needs.


Advancement
The opportunity that comes with learning how to improve event organizational skills is empowering and enriching.

Experiential
Focusing through the lens of the in-person community, their interactions, and the takeaways from the event in order to invoke a memorable story.
Engagement
The opportunity for users to organize events on a shared platform for reference and easy access.
Collaborative
Promote connection and communication within projects to ensure smooth event execution.
Who are we designing for?
Gray L. was developed to help us gain further insight into the target audience and to put a face to the user facing the challenges we defined:
---
03_Ideate
Generating and testing potential solutions
Initial Ideas

After an idea mash-up session with the team, I explored what a blend of Notion & Moleskine would be like. It supports the user's need for a hybrid tool for event organizing and gives users autonomy and flexibility to find the resources they need to have a successful event.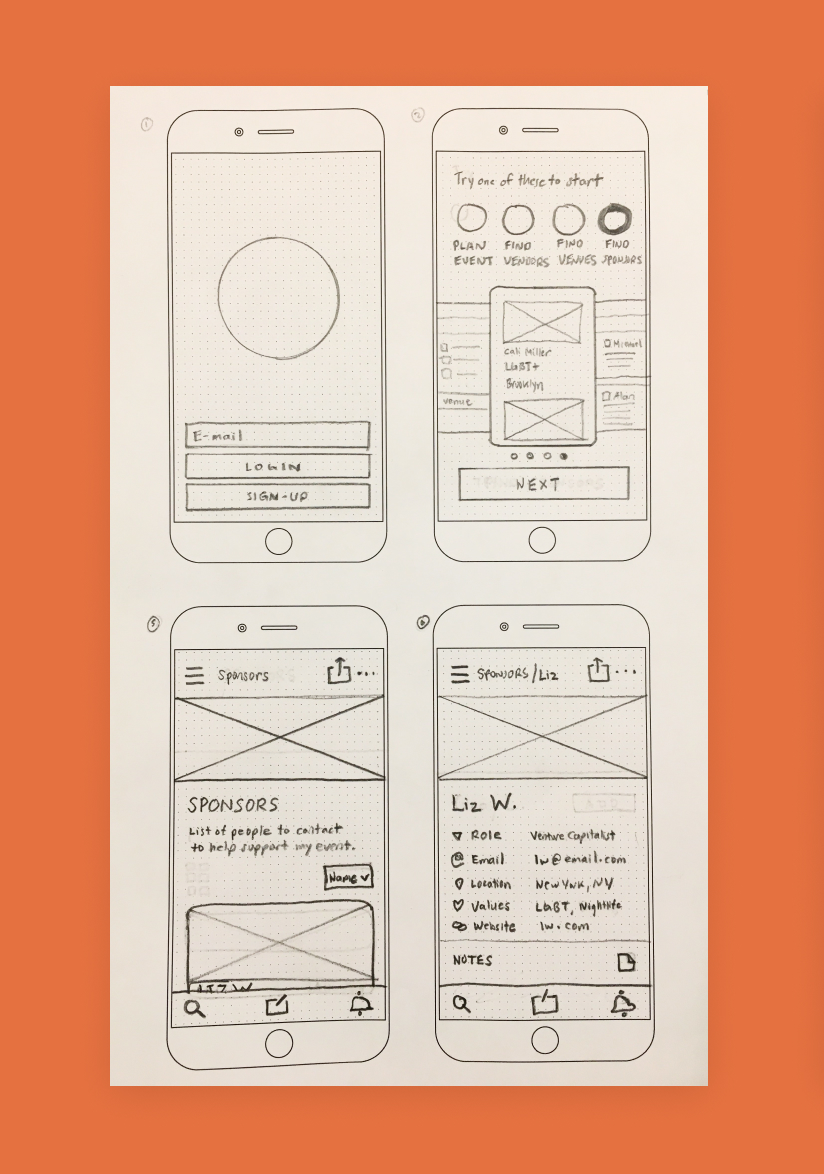 As a team, we evaluated each of our prototypes and defined the following concept statement for alignment:

An analog-to-digital tool that makes it accessible for entrepreneurs to connect to their community. It allows for the target audience to
customize their approach and elevates their experience

through guidance and growth.
---
04_Deliver
Prototyping the solution and investigating opportunities
Mapping a Solution
We defined the information architecture of the digital platform to communicate the overall taxonomy of the product. It was the framework that informed the structure of the converged design we developed.
Our Solution

We opted for a tablet interface based on its flexibility and portability for event planners who often require on-the-go management of their events.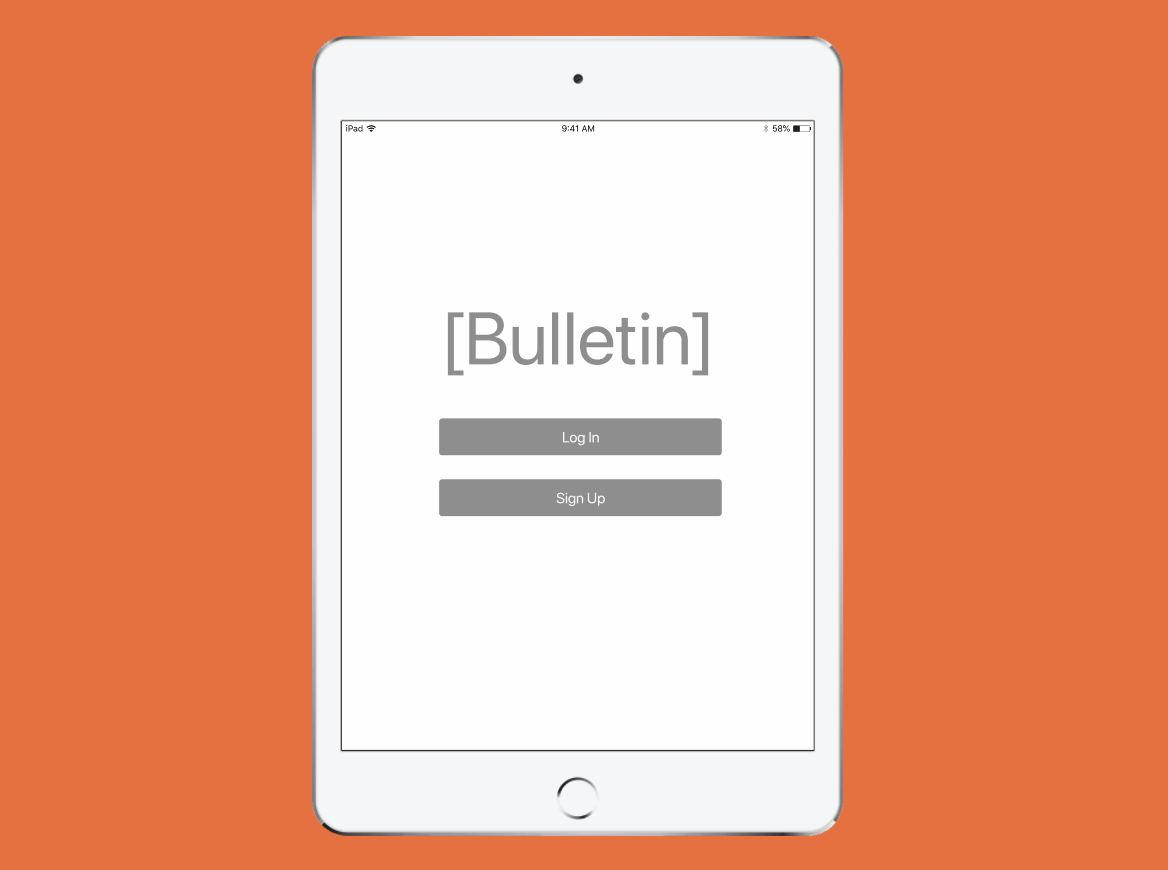 ---
05_Outcomes
Key takeaways from user testing
We tested the prototype to 4 users, and these were the main takeaways and how we addressed them:
Users need to know they've completed a task successfully.
Prompting next steps and confirmations
Users need clear navigational clues.
Include a notification badge and bolder navigation icons for more affordance.
Users need more information about the product/service.

Add page and feature descriptions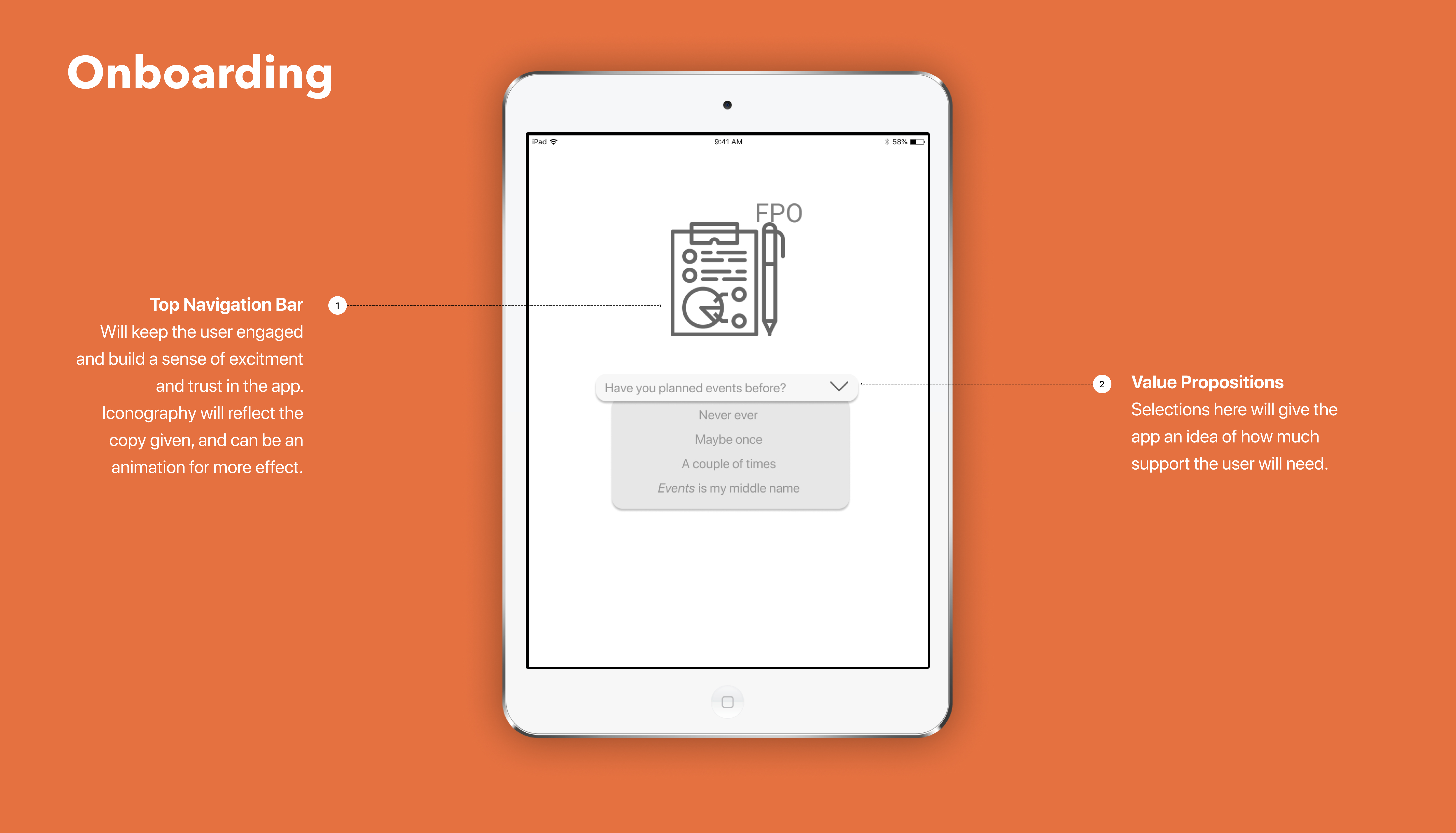 For future development, we would consider the following:
#1.

Conducting a card sorting workshop for users to further verify our users mental models and validate the information architecture.
#2.

Developing a responsive website for all devices to expand accessibility for event planners. Not everyone may have access to a tablet.
#3.

Exploring how to better incorporate analog tools into the digital platform to strengthen the "analog-to-digital" aspect of the product.
Think outside the box.
Activities that generate divergent ideas are a crucial part of the design process. The mash-up activity we conducted was very helpful with finding ways that different ideas and precedents could converge and produce a new set of ideas worth exploring.
Establish frameworks to keep team aligned.

A successful team will be aligned with the same goal throughout the project. Developing the problem and concept statements together, as well as creating the site map as a team, was helpful in ensuring focus on the same objectives and reducing ambiguity with the direction to take.